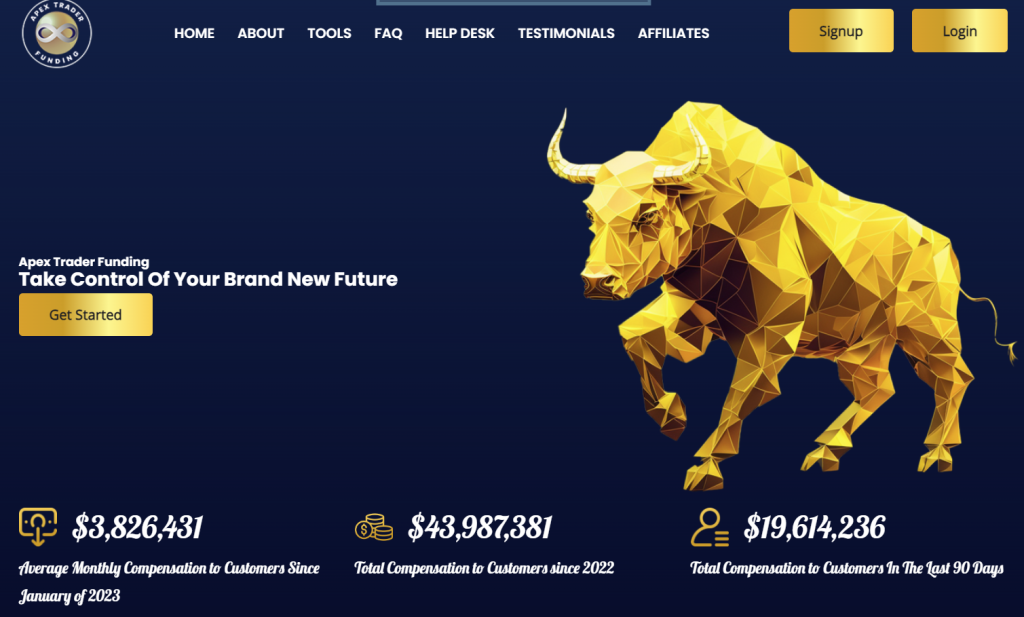 Finding the right prop trading firm can be a daunting task, especially for beginner traders. Apex Trader Funding has emerged as an intriguing option with their trader-centric policies and attractive funding plans.
This in-depth review will help untangle any complexities around Apex Trader Funding, delivering an unbiased analysis on its benefits to payouts, comparisons with competitors, and more.
Keep reading to successfully navigate your way towards a profitable trading experience!
Key Takeaways
Apex Trader Funding offers fair, low – cost trading plans for all levels of traders.
The company prides itself on its "Traders Helping Traders" motto and transparent policies.
There are a variety of funding options available to match diverse trader needs and budgets.
Apex Trader Funding is committed to providing excellent customer service as seen in their high Trustpilot ratings.
It stands strong in the market compared to competitors like Topstep, Elite Trader Funding, and MyForexFunds.
About Apex Trader Funding
Based in the US, Apex Trader Funding is an organization that proffers prop trading funding solutions to traders worldwide. The company fundamentally operates on a mission to provide affordable and fair trading opportunities to all, with transparency at its core.
Its team comprises of seasoned traders who understand unique challenges faced by their peers and shape services addressing those distinct issues effectively.
Company background and mission
Apex Trader Funding emerged as a proprietary trading firm with a mission to transform everyday individuals into skilled traders. Their strategy centers around providing financial backing and devoted support, ensuring an emphasis on trader success.
Through speedy evaluations that could lead to funding in as few as 7 days and immediate profit splits, they have quickly established their trustworthy reputation. Drawing from insights gained by scrutinizing the landscape of other funding companies, Apex strives for constant improvement in order to deliver an enhanced trading experience for all its clientele.
Location and team members
Apex Trader Funding operates in a space shrouded with mystery when it comes to exact location details. While the company has not publicly disclosed its base of operations, we know that a dedicated development team spearheads their activities.
This group vigorously works behind the scenes, dedicating their skills and expertise to evolve Apex's unique trading program.
This undisclosed nature extends to company affiliation as well. The firm relates closely with a private community boasting over 3,300 members worldwide. Despite the lack of specific info about these team members, it's clear that collaboration is at the forefront of this setup.
Each individual contributes significantly to ensuring smooth operations and consistent growth for all Apex traders.
Benefits of Choosing Apex Trader Funding
Apex Trader Funding stands out with its low cost, high contract plans tailored for a variety of trader capabilities. The company operates on the motto "Traders Helping Traders," underlining their commitment to transparency and fairness in all dealings.
Lowest cost and highest contract plans
Apex Trader Funding stands out with its affordable pricing options and competitive contract terms. At the nexus of cost-efficiency and high-value are their funding models, offering some of the lowest cost plans in the industry without compromising on profitable opportunities.
Apex provides one of the highest contract plans available, opening a wide array of trading possibilities for aspiring traders. Economical evaluation fees make it accessible to those testing their trading strategies while favorable profit splits motivate them towards success.
Traders find immense value in these budget-friendly yet high-return setups, making it possible to achieve their financial targets more effectively and transparently with Apex Trader Funding's low-cost funding models.
Traders Helping Traders motto
At the heart of Apex Trader Funding's operations is their empowering "Traders Helping Traders" motto. This powerful philosophy, nurtured by founder Martin, fuels a thriving community where traders can enjoy support and guidance from both peers and professionals alike.
Here, shared knowledge forms the bedrock of success while fostering a sense of unity and collaboration among its members. It is this spirit that sets Apex Trader Funding apart from other prop trading firms.
The company's commitment to transparency ensures that everyone gets an equal opportunity to grow, learn and achieve their financial goals effectively. With this unique approach, traders not only work for their personal growth but also contribute positively toward helping others in the process.
Transparent and fair policies
Fostering a community of trust and fairness, Apex Trader Funding showcases its commitment to traders through transparent and fair policies. These guidelines ensure that every trader has access to the same opportunities without hidden fees or concealed clauses.
With clear and equitable regulations in place, traders can navigate the funding process with confidence.
The company's emphasis on honesty manifests in their detailed guide that articulates program rules and payout structure diligently. This ethical approach demystifies proceedings for traders who value straightforward operations.
Each policy is designed to be as impartial as possible, promoting a level playing ground for each trading enthusiast. Apex Trader Funding's just practices underscore its stand as an investor-friendly platform dedicated to serving its clientele efficiently.
Funding Options
At Apex Trader Funding, numerous funding options cater to diverse trading requirements and budgets. They offer a 25K-300K FULL plan that is ideal for traders looking to maximize their trading capital.
The 100K STATIC plan targets those seeking a constant level of funded capital. Plus, the company provides evaluation resets and a clear fee structure for both paid and funded accounts, giving traders full knowledge of their potential income and expenses upfront.
25K-300K FULL plan
The 25K-300K FULL plan is a flexible funding option provided by Apex Trader Funding. Offering a broad capital range, the program suits traders who prefer a starting capital anywhere from $25,000 to $300,000.
Program costs are set at an affordable rate of $297 per month, making it accessible for many budding traders. If you choose the 250K FULL option, one can trade up to 27 contracts. Traders aiming higher have the opportunity to avail ten times 300k Full accounts at just $657 each during sales where they could obtain ten programs for only $3285 – a true bargain! As with any trading scheme, risks are inevitable but mitigated; those opting for accounts as high as possible must bear in mind that there's a drawdown risk of up to$7,500.
100K STATIC plan
The 100K STATIC plan caters specifically to CME Futures traders, offering a unique combination of risk control and profit potential. It permits the use of up to 2 E-mini contracts or 20 Micros, taking into account different trading strategies and styles.
With this approach, Apex Trader Funding introduces an element of flexibility that matches varied trader needs. A standout feature is the static maximum drawdown facility which provides a stable safety net for managing risk during volatile market conditions.
Simultaneously, it keeps the door open to higher profits with an impressive 90% profit share provision in place. This makes it possible for traders enrolled under this plan to retain most of their earnings while they navigate through diverse funding options across various account sizes available at Apex Trader Funding from $25,000 to $300,000.
Evaluation resets
Evaluation resets play an integral role in the Apex Trader Funding program. The company understands that every trader can experience a tough trading day, resulting in a breach of the drawdown limit.
Therefore, Apex provides an option to reset your account and start fresh without penalty or having your contract terminated.
Apex Trader Funding offers significant discounts on evaluation resets as part of its comprehensive funding solutions. Traders may find promotional codes for up to 90% off their first month with recurring monthly deals at 80% off.
Furthermore, there's also an opportunity to receive a whopping 50% discount on resets for multiple accounts – this applies if you have up to twenty active accounts! This value-added service isn't just about financial incentives; it underscores the firm's commitment to helping traders succeed by offering practical options like evaluation rest.
Paid/funded account fee
Apex Trader Funding presents traders with two main payment options for the funded account fee. The one-time fee of $140 for a $50,000 account is often viewed as the more cost-effective choice by many users.
However, there's also an alternative monthly payment option of $80 per month that caters to those who prefer smaller regular payments. Each new account gets access to these flexible and straightforward fees, ensuring transparency right from the start.
Also noteworthy is an accompanying monthly data fee set at $85, which guarantees unfettered access to all markets for traders on this platform.
Reviews and Testimonials
Discover how Apex Trader Funding performs in the eyes of actual users through an exploration of Trustpilot ratings and genuine customer experiences.
Trustpilot ratings
Apex Trader Funding demonstrates a high level of transparency and customer service through their active engagement with Trustpilot. They aren't only keen on obtaining customer feedback, but they also make use of the platform's additional features to enhance the client experience.
Their interest in user opinions informs business decisions aiming for improved service delivery. One testament to their commitment is that Apex Trader Funding addresses almost all negative reviews received, showing a response rate as high as 96% or 97%.
This trustworthiness allows them to manage their reputation effectively while providing prospective clients an insight into real consumer experiences through accessible online reviews and testimonials found directly via Trustpilot link.
Customer experiences
Customers rave about their experiences with Apex Trader Funding. The overwhelmingly positive feedback and user ratings sing praises of the company's top-notch service, transparency, and fairness.
Trustpilot scores sit high at 4.8 out of 5, reflecting the satisfaction of more than two thousand customers who have enjoyed its services.
Reacting deftly to negative reviews is a key component of Apex Trader Funding's reputation-building strategy. With an impressive response rate of 96% within just 24 hours, this financial firm demonstrates its unwavering commitment to customer satisfaction by swiftly addressing any issues brought up by unsatisfied traders.
This strong dedication towards client happiness has significantly bolstered the trustworthiness and popularity of Apex Trader Funding among traders globally.
Apex Trader Funding vs. Competitors
This section delves into a comparative analysis between Apex Trader Funding and its major competitors such as Topstep, Elite Trader Funding, MyForexFunds, highlighting key differentiators that set Apex apart in the competitive landscape.
Comparison with Topstep, Elite Trader Funding, MyForexFunds, and other options
Apex Trader Funding presents an enticing option for aspiring traders due to much flexibility in trading style and minimal rules, compared to Topstep. Unlike Elite Trader Funding, Apex has more funding options and a supportive community under its "Traders Helping Traders" motto.
MyForexFunds also operates within the Apex platform but offers no distinct advantages or features not already provided by Apex itself. Other funded trader programs such as SurgeTrader, FTMO, Earn2Trade provide equally interesting options for traders looking for alternatives.
Features may vary with each choice; ultimately what matters is finding the best fit based on your individual trading skillset and needs.
Key differentiators
Apex Trader Funding outshines its competitors in several significant ways. They offer a higher range of account sizes, from $25,000 up to a staggering $300,000. The company stands apart with generously structured programs that include benefits like allowing traders to keep 100% of profits up to $25,000 per account.
Their inclusive guidelines require only ten trades for qualification and their profit-sharing model is developed without charging upfront fees. Moreover, Apex operates under the unique "Traders Helping Traders" motto—a reflection of their commitment towards ensuring the success of all traders associated with them.
This dedicated approach has placed Apex Trader Funding at the forefront in prop trading evaluation and makes it one of the top choices for funded futures trader programs today.
How to Apply
Click Here to Go to Apex Trader Funding
To apply for Apex Trader Funding, first ensure that you meet the eligibility criteria. The application process is straightforward and clearly outlined on their website. Simply select your preferred funding option and fill out the required information.
After payment, you will receive an email with next-step instructions to set up your account and start trading.
Eligibility requirements
To become a funded trader with Apex Trader Funding, there are specific eligibility requirements. You must be of legal age and able to provide proof of identity. It's also necessary that you understand and accept the risk involved in forex trading.
Previous experience in financial markets is not mandatory but can strengthen your application. Once you meet these criteria, you can apply directly on the Apex Trader Funding's website following their application guidelines for a smooth process.
Application process
The application process at Apex Trader Funding begins with a trader evaluation where your trading skills are put to test. You must complete two to three steps in this stage before becoming eligible for funding from the firm.
Once you meet their standards, they send over a funded trader contract that includes details on the setup fee payment which needs processing promptly. Apex Trader Funding provides various leverage options along with an opportunity to select an account size of your choice – each coming with specific rules and unique features.
The criteria for fund allocation is clear cut and straightforward, ensuring transparency in every interaction you have with the company.
Trading Platform Options
With Apex Trader Funding, traders can choose from the reliable Rithmic or NinjaTrader platforms for efficient trading experiences and can also leverage Tradovate/NinjaTrader depending on their specific needs.
Rithmic/NinjaTrader
Rithmic/NinjaTrader equips traders with cutting-edge technology for a seamless trading experience. This trading software captures the exclusive essence of an active trader's needs and offers access to both the futures and forex markets.
With Rithmic, you can easily couple it up with NinjaTrader 8.0.28.0, providing features that allow users to perform real-time simulations alongside actual trades.
Fundamentally, this platform makes account selection straightforward through its compatibility with the Ninja Chart feature. It also provides valuable trading tools that enhance your performance in the brokerage service arena, aiding in vital decision-making processes for every active trader using their service.
Uncheck Global SIM under "Tools" in NinjaTrader is advised by most guides for optimal operation on this trading platform option.
Tradovate/NinjaTrader
Tradovate is a progressive online trading platform that recently partnered with NinjaTrader to amplify its service offerings. This collaboration facilitates Apex Trader Funding, allowing traders to access financial markets like Eurex and execute trades through the TradingView platform.
Providing an ideal setup for active traders, NinjaTrader hosts a vast array of technical analysis tools along with advanced trading software features. The fabulous news is that you have the freedom to use both Rithmic and Tradovate accounts, although you cannot convert one into another.
Here's your big window of opportunity to steer your trading career in any direction within the realm of active online trading!
Customer Service and Support
Apex Trader Funding is known for its responsive and supportive customer service, always ready to assist traders at every step. Various support resources are made available, providing a comprehensive guide to aid traders in their journey.
Helpful and responsive customer service
Apex Trader Funding distinguishes itself with its helpful and responsive customer service. The company highlights this as a crucial part of their funding program, emphasizing that quick and efficient customer support is equally important as providing effective trading solutions.
Regardless of the complexity of issues traders face, from technical problems to inquiries about payouts, the team at Apex aims to resolve them in record time. They prove their commitment to client satisfaction through constant efforts to uphold high standards in every area of their work, particularly when it comes to serving customers promptly and effectively.
As CEO Darrell Martin adds repute by frequently discussing this dedication openly in his communications – painting a picture of an organization deeply committed not just to leading the market but also setting industry-grade standards for customer support.
Support resources
Apex Trader Funding stands out for the range of support resources on offer. Live chat support is readily available to resolve immediate queries, while a comprehensive help desk caters to more in-depth questions.
The company's trader-centric approach manifests in its dedication to assist users swiftly and efficiently.
On top of that, traders have access to extensive guidance and resources through FAQ sections on their website. These informative segments hold answers to a plethora of common concerns, making it easy for users to find what they need quickly.
This commitment represents Apex Trader Funding's ongoing effort toward improving trader success and positive feedback.
Final Thoughts and Key Takeaways
Apex Trader Funding stands out for its trader-centric approach, affordable funding plans and excellent customer service. With transparent policies and a dedicated focus on the success of traders, it offers a promising platform for both novices and seasoned players.
Its competitive edge over other prop trading firms makes it a formidable choice in funded futures trading. Regardless of your trading goals or budget, exploring Apex Trader Funding can make your journey towards becoming a successful trader smoother and more rewarding.
FAQs
1. What is Apex Trader Funding?
Apex Trader Funding is a company offering financial support to traders who wish to fund their trading activities.
2. How does Apex Trader Funding work?
Apex Trader Funding provides trading capital in exchange for a percentage of the trader's profit, without requiring any personal risk or obligations.
3. Is Apex Trader Funding legit?
Yes, Apex Trader Funding operates legitimately by providing aspiring traders with funds and education, enabling them to trade confidently and consistently.
4. Are there any risks involved with using Apex Trader Funding?
While all types of investment carry some level of risk, Apex Trader funding mitigates risk by providing training and support systems that guide traders through decisions.
5. How much can I make with Apex Trader Funding?
Your earnings with Apex Trader funding depend on your trading performance; the better you perform in your trades, the higher your potential returns.