Summary
Began in 2003, Trade Ideas was just a humble software that had an alert window and a top stocks list. Since then, it has grown to a very powerful top tier software scanner tool. The software helps traders find any type of setups, statistical analysis and pattern recognition by monitoring every tick on the the NASDAQ, AMEX, NYSE, OTC BB, Pink Sheets, Canadian, and European markets. Add on top of that with artificial intelligence, it's no wonder Trade Ideas is very popular and have a large subscriber base.
Trade Ideas Pros
Highly rated real-time strategy-based stock screener
Quickly get premarket gap ups and downs list
Used extensively by all types of traders and investors spanning over 20 countries actively scanning the U.S. and Canadian equity markets
Easily scan sectors and quickly drill down to individual stocks for opportunities
Free live trading room where you can learn from each other and share trade ideas
Browser and app available to install per your preference
Use Artificial Intelligence nicknamed "Holly" to help your trading or get advisement after crunching millions of scenarios
Have a library of strategies all ready for use from the start
Easily back test your own strategies with past data then put it to use and trade semi-auto or automatically
A wide range of training videos and tutorials
Comes with news to any stock
Fast and reliable ticket based support
Trade Ideas Cons
Depending on the user, Trade Ideas software is complex and will require time to learn
Trade ideas is not a charting platform like TC2000 or tradingview.com so the charts are basic in functionality
It's overwhelming when you first use it and can easily get lost
Easy to get lost with too many trade ideas which could also lead to over trading
The look and feel of Trade Ideas is not aesthetically pleasing, often with jarring color schemes
Will need additional monitor(s) for all the windows available at your disposal
Can only autotrade with a very small list of brokers
Pricy for new traders or beginners
What is Trade Ideas?
Trade Ideas is an Artificial Intelligence (AI) powered stock market scanner and trading analysis platform aimed at helping investors make better trading decisions for higher returns. Trade Ideas is currently one of the best stock scanners in the market where it is highly rated and reviewed by most traders who have used it. This software is available on your desktop or via the web as a monthly or yearly subscription, and is compatible with any PC or Mac.
How Does Trade Ideas Work?
"Holly," the AI robo-advisor investment discovery engine, relies on 3 AI systems (Holly Grail, Holly 2.0, and Holly Neo) and 40+ strategies. Taken into account are various factors, such as long and short positions, technical and fundamental indicators, volume, etc. Holly performs an extensive analysis after each close of market on more than a million different trading scenarios. Only strategies and setup opportunities with a probable success rate of 60% and above and a 2:1 profit factor are shared the next day, essentially creating a daily watch list. But Holly doesn't just stop there, it continues to scan the market to give you up-to-the-second real-time analysis and trading opportunities throughout the day.
Key Features
Trade Ideas scans over 6,000 securities in total, including stocks, options, and ETFs. Already built into Trade Ideas are preconfigured stock scans, which you can customize and adjust parameters to create strategies that works the best for you.
Scanners are organized into channels with specific themes, such as pre-market trading, after-hours trading, volume, and many more. Receive in real-time selected alerts and filters from Alert windows.
Use Oddsmaker feature to backtest trading strategies to see what you'll expect or see what can be optimized before you trade live, or see how specific strategies have performed over time.
Link Trade Ideas to your brokerage account for auto trading.
Access Trade Ideas's extensive resources for training videos and educational programs to help you learn the best of what Trade Ideas has to offer.
Trade Ideas Pro Basics – How to Get Started?
Trade Ideas Pro is the software which you can download and install to your computer. After installation, you can then launch the program and you'll see a variety of options which can be daunting at first but it will pass as you learn the tool.
The layout is customizable so you can move things visually based on your preference. Every time you open the program again, it will remember how your set your windows.
Top List Window – This is a dynamically updating window where it scans the market of 8,000+ stocks every 30 seconds and return the results of stocks that match your search filter. Examples of filters include, stock price, volume, relative strength index etc.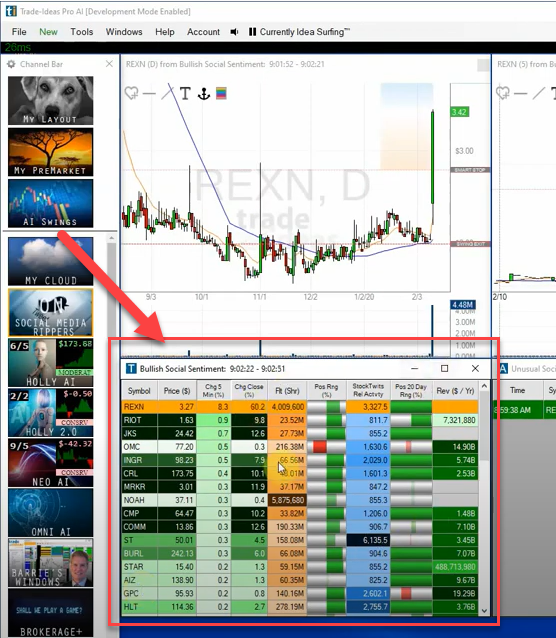 Alert Window – takes the functions of the stocks top list and go a bit further by scanning for a set criteria and notifying you. For example, if your scanner says to look for stocks at $10 or above with volume over 1 million shares traded, then you can add an alert whereby if the $10 stock and 1 million shares traded has met, and stocktwits activity has jumped significantly, then it will fire an alert to you. There are hundreds of options for an alert to trigger for you.
Alert Type Examples
New high
New low
Pre-market highs
Pre-market lows
25% pullback from lows (Close)
75% pullback from highs (Close)
% up for the day
Standard deviation breakout
Crossed daily highs resistance
Crossed daily lows support
Large bid size
Market crossed up
Market crossed down
Sector breakout (from close)
Sector breakdown (from close)
Positive market divergence
Negative market divergence
1 minute volume spike
Strong volume
Unusual number of prints
Halt
Crossed above 200 day moving average
Positive VWAP Divergence
Channel breakout (confirmed)
Double bottom
Fibonacci 38% buy signal
90 minute linear regression up trend
20 period SMA crossed above 200 period SMA (2 minute)
30 minute MACD crossed above zero
30 minute bullish engulfing
Bullish or Bearish opening power bar (a popular alert)
You can see the full list of options here.
Pro Tip – you want your alert to fire sparingly because if too many stocks satisfy your filters then you will be alerted hundreds or thousands of times a day which will not be actionable.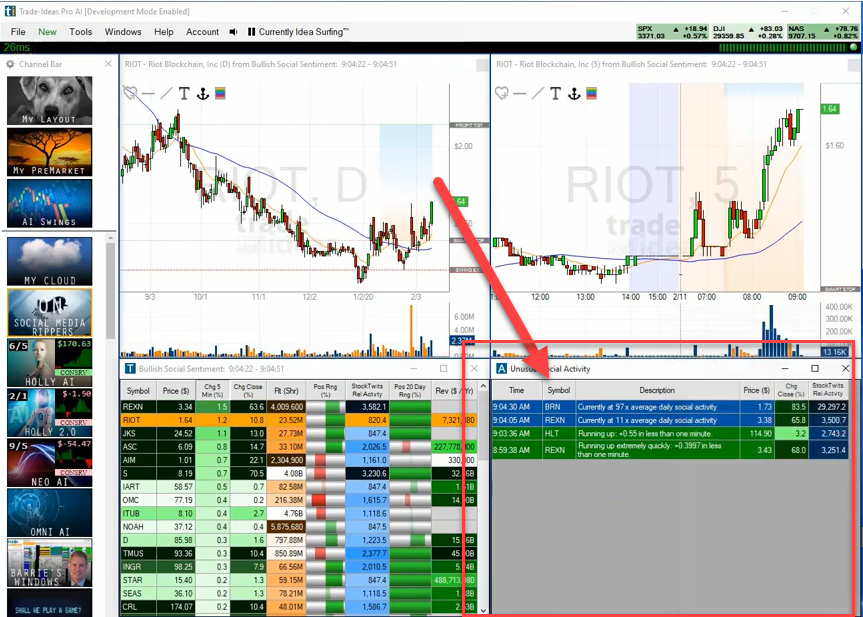 Channel Bar – channel bar allows you to quickly go to a certain sector or area for information. This is great for new users and new traders as well. Let's say you just saw news came out and that banks are all moving higher. You can click on the bank channel and see the entire sector. Another possible scenario is that you want to trade penny stocks, so you can click on the channel button that shows you penny stocks that are currently moving.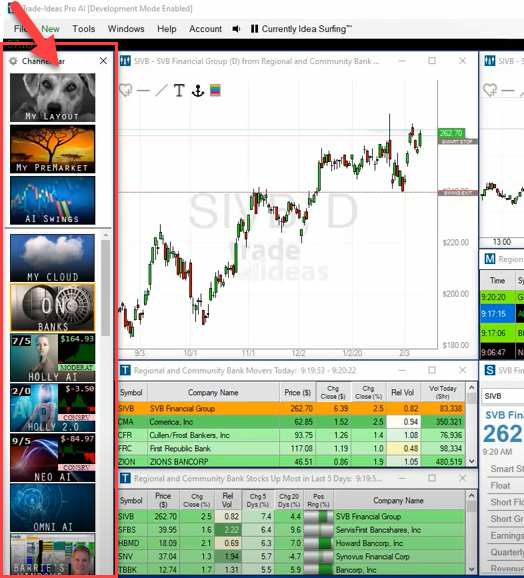 Charts – you can use as many charts as you want in various timeframes. There are a limited amount of indicators you can choose to apply to the charts so it is not ideal to use Trade Ideas as a charting software. It is one of their weaknesses.
Strategies Tab – this tab enables the user to select pre-configured strategies as shown below: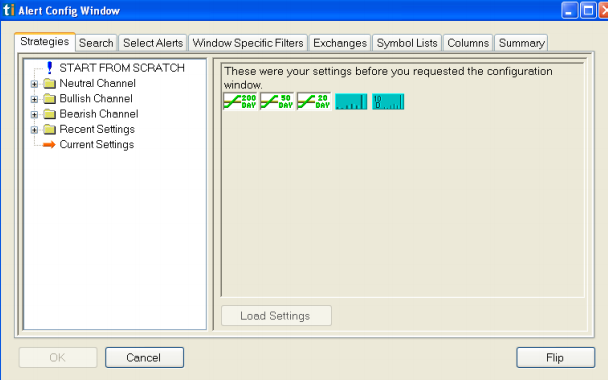 By selecting a Preconfigured Strategy or Recently Used Settings, you can load those strategies into a
Alert Window. Below are examples of strategies you can set Trade Ideas to alert to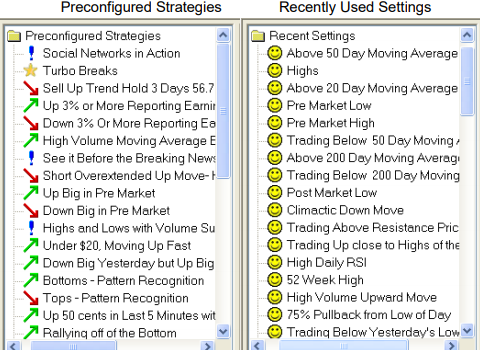 OddsMaker Module – This is an add-on functionality for the Trade Ideas Pro software. You can use this feature to calculate the odds of winning trades on any trade alert or filters. It will give you win rate of different strategies and data on average winners, losers and net profits and loss. The simulation results will show you profit factor, total trades with how many of them as winners, average winners and losers, projected annual return, drawdown, and an equity curve. Here is an example below: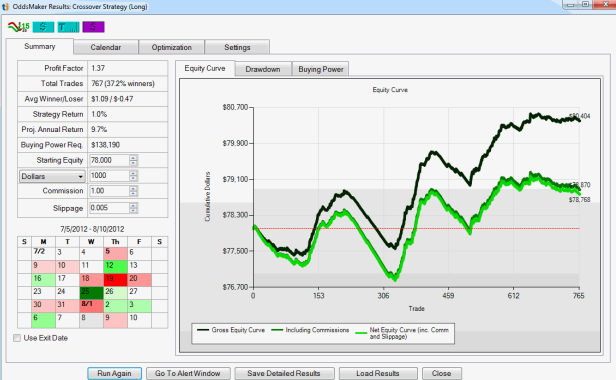 Holly A.I. Overview
Holly is the Trade Ideas' artificial intelligence and it's the most interesting feature. There are 3 segments of Holly, Holly Grail, Holly 2.0 and Holly Neo which you can find on the channel bar of the software. They do different trades and different strategies completely separate from each other. Each of the Holly AIs will analyze all the stocks and evaluate them with the preset strategies. Holly will come to conclusions of which stocks to trade and in which direction throughout the entire trading day. This is definitely the way to go if you want to capture as many opportunities as the market presents them. If emotions are a problem for your as a trader, Holly can help with that by making sure your account trades based on predefined rules.
To bring Holly AI window into view, go to the menu and click on New > AI/Holly Strategy Window
From this window you can toggle between the 3 Hollies.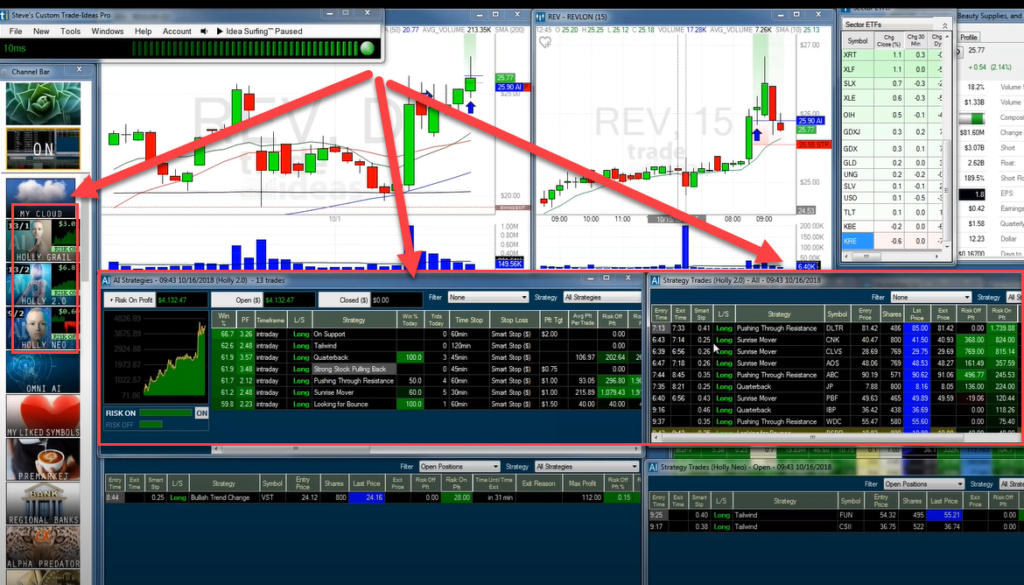 Next window you want to bring up is the Strategies Trades window which will bring up all of Holly's trades. You can get this by right clicking the Holly AI window and click "view all trades".
Each Holly will have its own criteria for entries. When it comes to exits, there are 5 reasons for which Holly will exit.
Timed Stop – all strategies have a timed stop i.e. 60 minutes, 120 minutes.
Target Hit – this is when the target price was hit and profits are realized.
Stop Hit – this is when price hits the stop order and loss realized.
Profit Save – this is a essentially a trailing stop where it moves the stop up as profit goes up
Reduce Risk – this is when the AI exits before the timed stop or target hit stop because the price action has not behaved as what the AI expects it to do
Holly AI Trade Size – when it comes to sizing you can choose to risk the amount of dollar per trade, amount of shares per trade, or the popular option, which is the amount of risk in dollars on each stop loss. The last option, you're letting Holly calculate the share size for you and enter the trade.
Trade Ideas Pricing
Standard Subscription: $118 monthly ($3.90/day) or $1,086 annually ($2.90/day)

Includes Live Trading Room, Real-time Streaming Trade Ideas, 10 Simultaneous Charts, Chart-based Visual Trade Assistant, up to 500 Price Alerts, Channel Bar (Curated Workspaces)

Pro Subscription: $228 monthly ($7.50/day) or $2,268 ($6.20) annually

Includes all of the benefits of Standard Subscription, as well as 10 additional Simultaneous Charts (total of 20), Holly the AI Virtual Trading Analyst, Chart-based AI Trade Assistance, Entry and Exit Signals, Risk Assessment, Build and Backtest any Trade Idea, Autotrade w/ Brokerage Plus and AI

If you're not satisfied or if TI isn't for you, TI has a great refund policy. You can cancel your subscription within 5 calendar days from the original purchase date.
Bottom Line – Is Trade Ideas Worth it?
In trading, timing is everything. Trade Ideas puts everything that you need to see right in front of you, so that you can identify moves before and when it happens. Real time alerts enable you to get to stocks quickly, take trades, and make money. And you will make money. TI has outperformed the S&P 500, averaging 23-33%.
Like all tools, Trade Ideas will not replace hard work and skills, but what it will do is provide guidance with your trading. Use Trade Ideas to prepare morning watch lists, find momentum stocks mid-day, or find good set-ups for swing trades. You don't need to put in any time or effort in finding, scanning, or researching stocks because TI will do all of these for you.
Trade Ideas is suitable for various trading styles, whether you're a beginner or a pro. Although it does take awhile to become familiar with Trade Ideas' features and charts could be improved upon, you'll receive all the support and training to ensure that you make the most out of what Trade Ideas has to offer.
Trade Ideas Coupon Discount Code
Thank you for visiting tradethischart.com! We hope that you found the review helpful and if you decide to subscribe to Trade Ideas, you can Click Here to go Trade Ideas and use a coupon code for a 15% Discount – Coupon Code: TRADETHISCHART